These Warning Screens Are From TV Entertainment.
1985-1990Edit
This is the same as Video Treasures warning screen for videotapes, especially the "Title 17" detail on blue background, and has also been used for Trans World Entertainment, Imperial Entertainment, Monarch Home Video, Media Home Entertainment and New Star Entertainment (though the warning screen is on a red background).
​​​​​

Seen on Power Home Video and Computer Video Releases such as The 37 Steps (1935), Way Out East! (1937), It's a Toy Thing (1959), Giorgio (1964), Chainsaw Monster (1974), All of the British People (1978), Back in the Days (1981), Good Girl (1982), Snowball Academy (1984), The World War and It's History(1986), and Kill Lou (1988).
1989-1998
Edit
This is the same as 20th Century Fox Home Entertainment warning screen.  ​​​​​​
Seen On The Best of You (1944), Go Further (1945)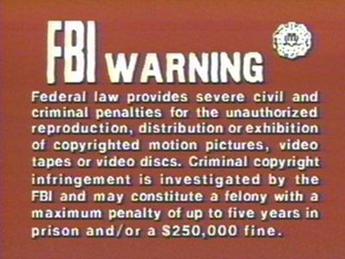 , The Beat Up Kid (1948),
The Angry German Kid Show (1955-1962), The Joey Bishop Show (1962-1965),
AGK's Birthday Mash-up (1965), Smells (1970), The Littlest Angel (1972),
Super Andy (1982), The CEC TV Show (1985-1998), Playtime Is Cool (1987),
Kindergarten Drop (1988), Buy A Car, Any Car (1990), Hobbies (1992),
Hugo (1992), Socker Strike 2 (1993), The Freak-Out (1994), Music (1994),
Sobber Up (1995), No Doubt: Greatest Hits (1996), Dakota (1997),
Kids That Talk Lower (1997) and Good Gorilla (1998).
1998-2007
Edit
Community content is available under
CC-BY-SA
unless otherwise noted.